The GX™ series have become the new workhorse & standard in perfectly engineered anchoring systems at the right price. Featuring all Australian Made 316 stainless and machined & anodized 6061 T-6 aluminium construction, "Real Italian" transmissions, triple sealed bearings, twin shaft bearing systems, machined slimline 'fast change' collars, & an all new emergency release as standard on all models. Motors are once again custom manufactured exclusively for LSM and are pre-rigged with twin leads for easy installation. From the company with so many Worlds First under its belt, we are proud to have created the first anchor winch motor with an IP68 rating (AS/NZS 60529). This silicon free, glue free, paint free design has been achieved utilizing the latest modern manufacturing techniques, right here in AU. Most importantly, GX Series winches are Made to Get Wet! From small recreational boats to Commercial Vessels over 60ft, there is a GX Series winch just right for your boat and application. All backed by our famous 5 + Life Warranty.
The GX5 is an absolute horse of a unit, boasting a 420mm drum and gearbox much larger than necessary for a lifetime of faultless anchoring. The GX5 is the answer for large capacity trailer boats & commercial fishermen. This model has been created for XHD loads and structural integrity with a 37mm solid machined shaft, 10mm frame, and 25mm solid frame stiffener. Thanks to the well oversized gearing and motor this unit can easily be fitted to boats to 15m.
Huge 2300W (12V) or 2800W (24v) Motor
Perfect for wet wells and deck mounts
Boats to 20m
Fast Drop/Retrieval Rating
Sealed IP68 Motor and Oversized Gearbox
Manufactured in Australia
Ideal for boats to 15m
Every Lone Star Marine Drum Winch Includes a 5 + Life Warranty
| | | | | | | |
| --- | --- | --- | --- | --- | --- | --- |
| Model | Spec | Max Drop-Retrieval Speed | Holding at Anchor | Rope/Chain Capacity | Recc. Boat Size | Packaged Weight (Appr.) |
| GX5 Charter King | 420mm Drum 37mm Solid Shaft 150mm Gearset 2300W Motor (12v) 2800W Motor (24V) | 40m/129ft. p/m | 7T | 140 m x 12mm rope, 12m x 10mm SL Chain | 10-15m+ | 60kg |
2300w (12v) or 2800w (24v)  Purpose Built Permanent Magnet Motor, 4 Brush Design
IP68 (Fully Waterproof)
Extra Heavy Duty Structural Design
Machined Solid 37mm 316SS Spool Shaft
High Polished 8mm 316SS Cradle Construction
25mm Solid Frame Stiffener
Twin Shaft Bearing Design, Triple Sealed (LSM Exclusive)
Machined Roller Bearing Cover (triple sealed)
No Paint or Silicon Sealants
No Mild steel outputs or fittings
Fully Waterproof Machined Motor (LSM Exclusive)
Prerigged with tinned cable leads
Machined (not cast) Fastchange Bearing Collar
Perfect for Deck Mounting
Capacity 140m of 12mm Rope + 12m x 10mm SL chain
Drop/Retrieve up to 129Ft (40m) per minute
12 Adjustable Gear/Motor Mounting Positions
Manual Release Feature in the event of power loss
7000kg Holding Power at Anchor-No need to tie off
Massive 2.5T Max Pull (empty drum)
150kg max recommended working load
All 316SS and Machined 6160 Alloy Construction
Italian Made Transmission-Marine Grade Outputs
Designed and Manufactured in Australia
Each Kit Includes the Following as Standard
Winch
8mm Backing Plate
400 Amp Solenoid
Genuine MP Marine Grade Circuit Breaker (made in the USA)
Anodized Alloy Toggle Switch Panel
All Nuts, Bolts, & Washers Needed for Installation
Warranty Information, Switch Panel Template, Installation Instructions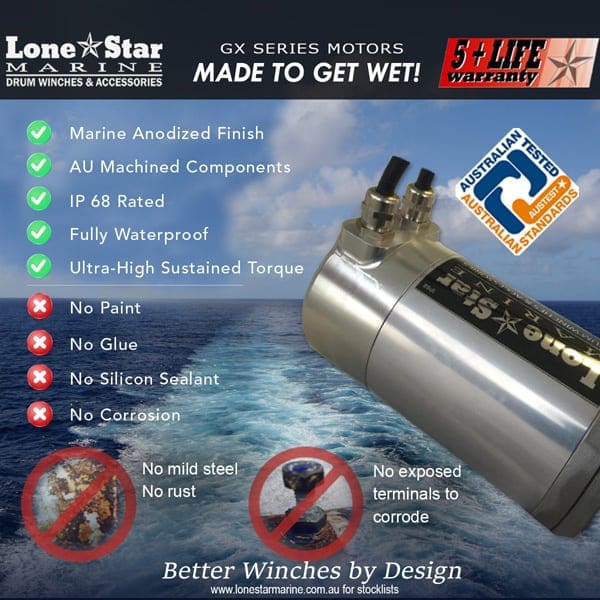 PLEASE READ:
International Shipping in NOT FREE.
Free Shipping only apply to domestic capital cities.
Domestic far reach and remote places charges apply.
Contact us for shipping quote prior to making purchase.